Mobile Detailing is becoming an extremely popular service with busy car owners who want to maintain the showroom quality of their vehicles. So, what is mobile detailing, and what does the process involve?
In this blog article, from the detailing experts at Wash Doc Auto Detailing in Fort Worth, TX, we will explore more about the procedure of mobile detailing and the benefits it can provide to car owners who have a busy schedule to upkeep. 
What Does Mobile Detailing Involve?
Mobile detailing involves cleaning the interior and exterior of a vehicle until it resembles the same condition as the day it rolled off the factory floor. The main unique selling point of a mobile detailing service, is that a professional detailing crew will come to your home or workplace to get the job done. This is one reason why mobile detailing is so popular with car owners who have busy lives!
The process of mobile detailing involves several steps to restore the factory like condition of your car, both inside and out. Your vehicle's exterior will be washed and polished so the surface shines like new. In addition, the detailing team will meticulously clean the interior of your vehicle, removing rubbish, dirt and dust which may have accumulated inside the vehicle.
What Are The Benefits Of Mobile Detailing?
Mobile detailing provides a wide range of benefits to both vehicles and their owners. Here is a summary of the main advantages of getting a mobile detailing service for your vehicle:

Convenience
The primary benefit of mobile detailing  for car owners is convenience. Mobile detailing saves you the hassle of driving all the way to a detailing service center and allows you to get on with chores, work or enjoy some family time while an expert crew detail your car. The perfect choice for any busy car owner!
Saves Time
A mobile detailing crew will come to your location, which means you don't have to waste time waiting around for your car to be finished. 
Bespoke Service
You receive personalized service that is catered to your vehicle's unique needs with mobile detailing. Before starting the cleaning procedure, the detailer will evaluate your car and talk with you about  the best course of action. This ensures that your car receives the care it deserves and that it is not just treated as 'another job' by the detailing crew.
High Quality Service
To ensure a top quality service, mobile detailers will use high-quality supplies and specialized detailing equipment. They are highly trained and skilled in the most recent detailing procedures and are familiar with a variety of car brands and models.
Improved Appearance
Mobile detailing will improve the appearance of your vehicle, making it look as good as new. The detailer will clean every nook and cranny of your vehicle, remove stains and odors, and restore fading surfaces, leaving it looking even better than the day you first purchased it!
Is Mobile Detailing Worth It?
Mobile detailing offers convenience, it saves you time, as well as providing an individualized service to improve the appearance of your car. These advantages make it a fantastic choice for any car owner who wants to retain the appearance and market value of their automobile.
Read more: Why Do You Need To Apply Ceramic Coating For Your Cars?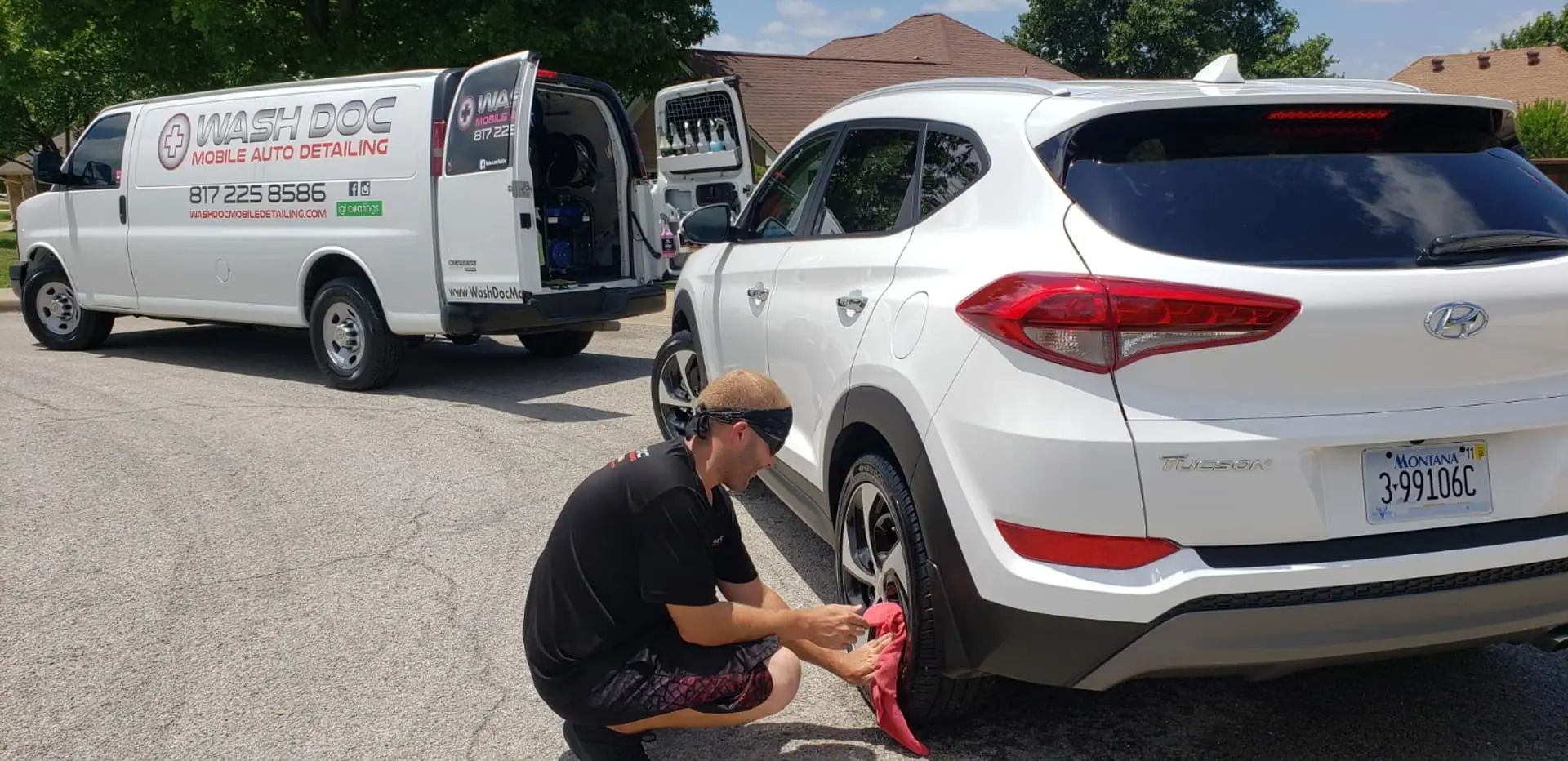 Where Can You Find The Best Mobile Detailing Services in Dallas & Fort Worth?
Wash Doc Auto Detailing provides top quality mobile detailing services in Dallas & Fort Worth,  which are perfect for any busy car owner. Our expert detailing team will come to your home or place of work with everything they need to make your vehicle look as good as new. To book your appointment with Wash Doc Auto Detailing in Fort Worth and the DFW area, Texas, call +1 817-225-8586. Our expert team is ready to come to you and give you the best mobile detailing service in the local area. Book your appointment today!